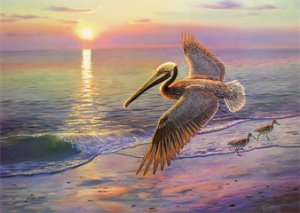 "Evening Traffic" Brown Pelican Print
by Wildlife Artist Randy McGovern
Image Size: 15 1/4" x 21 1/2"
1500 Signed & Numbered Prints

Welcome to the website of Randy McGovern, one of the nation's most popular wildlife artists. With his fanatical attention to detail and skill as a painter, he has become a world-renowned bird, fish and wildlife artist. Working in precise detail in oil, he attempts to capture each animal in its natural habitat, with an endearing background and a rich use of light.
Randy is famous for hiding smaller animals within the portraits of larger ones. For example, the picture at left contains 6 hidden animals. About 95% of Randy's prints have hidden creatures. They make a great conversation piece!
We invite you to shop in our new online wildlife art prints gallery. Choose from art print categories or Art Gallery to see examples of hidden wildlife animals Randy McGovern adds in his backgrounds. Check out our originals, waterfowl prints, wildlife prints, deer prints, bird prints, dog prints, cat prints, horse prints, nautical prints, landscape prints, countryscapes prints. freshwater fish prints, and saltwater fish prints. Our wildlife art prints are available unframed or framed at reasonable prices. (Don't miss our Dog Art Prints Gallery!)
Wildlife Artist Randy McGovern
Phone: 770-598-4090
Store Hours: 9AM-9PM EST
Fax: 770-425-5622
E-mail: randy@mcgovernwildlife.com